INTRODUCTION TO
LIFE COACHING
In a revealing and information-packed workshop for a select group of aspirant life coaches, International Master Coach, Lyn Smith, and Bill Burridge explained in detail, how - and exactly what it means,
to become a practising life coach.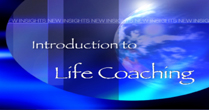 Now, Bill & Lyn have agreed to make the content
of this special workshop available as a
comprehensive, two-hour
DVD
If you are curious about life coaching, thinking about signing up to a training programme or serious about starting a career in this rewarding and highly fulfilling industry, investing in this informative and practical DVD is a highly recommended first step. You'll see and hear Lyn and Bill address relevant questions and important issues, such as:



What exactly is Life Coaching?



How does Life Coaching differ from Counselling or Therapy?



How life coaching transforms lives.



The size and nature of the coaching industry and the potential for Life Coaching in South Africa.



What it's like to be a practising Life Coach.



A detailed look at the New Insights life coach training programme.



Coaching structure. How important is it?



An in-depth look at the thirteen-session coaching programme employed by New Insights certified coaches use to help clients reach new heights.



Powerful techniques that life coaches use to build great client relationships.



The most effective way to market a life coaching practice and generate a competitive edge.

...And much more!


This DVD, specially formatted for the wide screen, will take you to right to the heart of the wonderful opportunity that is a career in Life Coaching.

If you're still uncertain about whether you should make the investment in life coach training and want more detail than you can get from brochures and websites, then this is the perfect next step to take.
After all, the investment required is a very modest one - about the cost of a single bag of groceries!


To buy this product, click on the button below to be taken to our Life Coach Shop: