The New Insights
Life Coach Training and Certification Programme
---
A Quality Life Coaching Course ...
... That combines the Convenience, Affordability and Flexibility of Home Study with the in depth Practical Experience, Structure and Support you need to
become a great life coach.




---
In designing the New Insights life coaching course we knew that most people considering a career in life coaching are already very busy people - in full time employment, in parenting children, in completing other studies or in active retirement.
We've been established now for over 10 years. Our tried and trusted approach to training maximises flexibility and convenience for our trainees, without compromising on effectiveness or affordability.



At the same time we knew how important it was to ensure that the coach training experience was of high quality and integrity so that our certified life coaches would be on a par with the best as they set out to transform the lives of people around the world.
We like to think of the New Insights life coaching course as more of a comprehensive programme that imparts self-awareness, knowledge, skills, experience and coaching structure to our trainees.
Here's what you can expect when you commit to the New Insights Life Coach Training & Certification Programme:


A Certification Process

that is rigorous yet well balanced and practical in its application, underpinned by a code of ethics and coach supervised.



Skills Training Theory

that is comprehensive, well researched, yet easy to follow and apply with plenty of reflective exercises, practical examples and self tests in the written manuals.



Practice Coaching

that is hands-on and substantial, ensuring a minimum of 50 hours of one-on-one coaching experience.



A Coaching Programme

that is well structured, tried, trusted and effective in bringing about lasting change, backed by comprehensive pre-designed coaching session notes and supported by full length simulated coaching DVDs.



Attentive Support

from New Insights staff, certified coaches and other trainees throughout and beyond the training experience. We go the extra mile to make you feel part of a special group.



Online Facilities

like our Forum and state-of-the-art Journalling Platform both of which serve to broaden, deepen and enhance the trainee's experience, understanding and capability.
OK, let's take a more detailed look at the key elements of the Programme:
---
Prerequisites:
There are no prerequisite qualifications or courses that you are required to complete before enrolling in this certification training programme.
You should be a person of impeccable integrity, have a passion for working with and helping others to be the best they can be and have an open and inquiring mind.
You do not need to complete our Introductory course, New Insights Life Coaching 101, before enrolling for the full certification programme. However, this is a good idea if you have any doubts about whether you are cut out for life coaching or if you want to learn more about life coaching first.


---
The Course Content: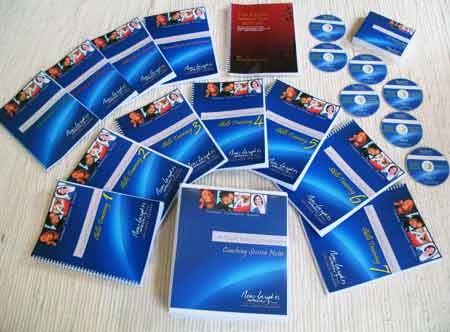 A photo of the material content of the New Insights Life Coach Training & Certification Programme.
The tangible component of the life coaching course is comprehensive, comprising almost 10kg of printed material, DVDs and CDs.
The skills training theory is presented in eighty sections, divided into seven Parts, each Part covering a key theme of the training.
The actual coaching programme, that comprises thirteen sessions is taught with the help of DVDs showing full length coaching sessions being conducted. By cross referencing between the skills training material, exercises and assignments and the DVDs and coaching session notes, you are able to build your understanding, confidence... and excitement about life coaching!
A unique feature of the New Insights training programme is the inclusion of substantial material aimed at assisting you, as a newly equipped coach, to establish, market and promote your practice, thus ensuring your business success.
For more detail on what you get, please click on the photo above or click on the link below:


---
The Course Duration: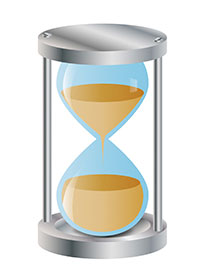 How long will it take you to complete certification?
That depends on you and how much time and energy you are able to devote to the programme.
Remember that New Insights life coach training is built around your needs, not ours. It's completely flexible to meet your lifestyle. You start when it suits you and you study and do the practicals in your own time and at your own pace.
As a guideline most of our trainees complete certification within 9 to 15 months after commencing, although it can take a little longer for those choosing the PRO course option (see 'Course Options' below).
New Insights allows you a generous 24 months to complete the certification requirements from the time you first register so you're covered if life throws you the odd curve ball!
We recommend you set a goal of gaining certification within 12 months ... but we cater for both hares and tortoises!


---
The Curriculum: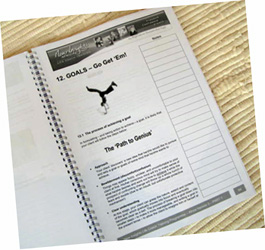 The Skills Training theory alone (not including the Introduction and Ethics material) covers a lot of ground. The programme material is presented in eighty sections, divided into seven manuals, modules or Parts.
Each Part of the Theory focuses on a key theme or themes that are central to life coaching as well as a number of related issues.
Here's a small taste of what's included:



PART ONE: Running an effective introductory session including self awareness, understanding what life coaching really is, listening, questioning, dealing with common client issues, goal setting, the coach-client contract, etc.
PART TWO: Understanding and promoting change including the primary human motivators, uncovering fear, a model for change, the dynamics of goal setting and getting, installing an empowering belief system, setting clients up for success and happiness, etc.
PART THREE: What makes people tick? including understanding and working with values, dealing with value conflicts, uncovering and challenging the client's rules for success, etc.
PART FOUR: Understanding Human Behaviour and Becoming a Great Coach including The Six Human Needs, the art of constructive challenging, attributes of a great coach, etc.
PART FIVE: Effective Communication including Projection, the communication process, responsibility and control, building rapport, coaching and developing the client, etc.
PART SIX: Uncovering one's Life Purpose including long-term goal-setting, guiding the client to find his/her purpose, setting yourself up to be a client magnet, etc.
PART SEVEN: Ending and/or Extending the Client Relationship including celebrating success, evaluating client progress, handling feedback, continuing with or separating from your client, always being a winner, beyond the programme, etc.


---
The Certification: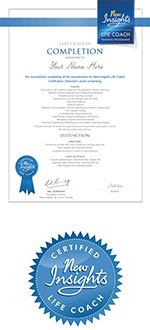 The New Insights Certification process aims to ensure that life coaches who train with us are a credit to the industry - well-equipped and uniquely capable of helping us deliver on our mission to bring personal freedom, confidence and self-growth to people from all walks of life.
Our training focuses on imparting skills that, while powerful, are relatively simple to relate to and easy to apply within the structured, yet flexible framework that we offer our trainees.
It is our view that great life coaches operate primarily from the heart, not the head and for this reason our training avoids a highly academic approach and the presentation of complex, esoteric models.
The New Insights certification process, which is designed to meet the requirements for 'Practitioner Coach' membership as proposed by COMENSA, requires the trainee to:
Sign a code of ethics declaration committing the trainee/coach to abide by sound ethical practices in his/her coaching.
Demonstrate a sound knowledge of the skills training theory (which is reviewed through self-test assignments and a final exam).
Undertake at least 50 hours of direct one-on practice coaching with coach review of client feedback.
For those registering for the PRO course option, be coached through the entire 13-session New Insights programme by a top New Insights trained supervisor coach.
In addition, for PRO trainees, submit video recordings of two full practice coaching sessions to New Insights for review and an assessment of coaching competency.
For more detail on our certification process please click on the link below:


More on the Certification Process


---
The Coaching Programme: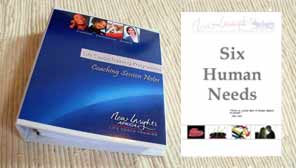 The New Insights Coaching Programme that you are taught to deliver, is carefully structured yet sufficiently flexible to allow you to tailor the programme for different clients and target markets.
The programme consists of thirteen sessions during which you will take your client from life reflection and goal setting right through to uncovering life purpose, celebration of his/her achievements and goal setting for the longer-term.
This is a programme that really works! We have testimonials from clients all over the world to support that claim.
As a New Insights trainee you are provided with the entire set of coaching and client session notes in both printed and electronic format so you can 'hit the ground running' with your life coaching practice directly after you gain certification.


---
The Support & Resources: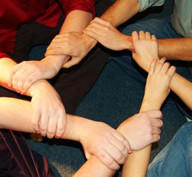 Home study is a wonderfully flexible way to train as a life coach - but we appreciate how important it is for our trainees to feel well supported with ready access to resources.
As a trainee with New Insights you need never feel that you have to fend for yourself. You'll be part of a dynamic and supportive group... And not just while you're in training but once you're practicing as a coach too.
With our approach, you're in control. You choose the level of interaction that you want and feel comfortable with!
Here's some of what you can look forward to:

Courier delivery of your life coaching programme material to SA destinations, shipped within 3 working days of receipt of your order and payment.



A Personal Coaching Session with a certified New Insights coach to help you fast track your training or build early momentum for your budding practice.



With the Pro option, a personal Supervisor/Mentor coach assigned to you to guide and support you through your training experience.



Full member access to the Customer Resources section of the New Insights Africa website where numerous electronic resources including coaching session notes and client feedback forms are conveniently housed for trainees and coaches.



Login access to The Forum a powerful online networking facility where our Coaches and Trainees can Share, Grow and Learn by posting questions, suggestions, comments and advice in one of many relevant sub forums, each of which is convened by a certified coach.



Client membership to our leading edge Online Journalling Platform for as long as you like, with the option to upgrade to coach member status (and a host of additional benefits) at any time.



Ongoing eMail and Telephone Support for as long as you are in training with us.




Free subscription to Life Coaching Insights, an inspiring and informative blog for coaches and trainee coaches that is updated on a weekly basis with notifications sent to your email box.



Four comprehensive Business Support Manuals, each containing a wealth of information to help you plan, establish, market and promote your life coaching practice and sell your services easily and effectively.



Opportunities to Network with other New Insights trainees and coaches, either informally or through teleconferences.



Full Certification Support including self-test assignment reviews, review of practice client feedback, exam marking, supervision & coaching (PRO course option), coaching competency assessment (PRO option) and the delivery of a professional looking Certificate of Completion (CLASSIC) or Competence (PRO) once you've successfully completed all the requirements.




---
The Course Options:
We offer a choice of two different course options:
CLASSIC and PRO
Both options lead to New Insights certified life coach status.
The PRO option includes the appointment of a supervisor coach who will coach you through the 13 session New Insights coaching programme while you are training to become a coach yourself. In addition it also includes a video based competency assessment requirement.
Please click on the link below for more details:


---
The Course Fees and Payment Options:
Given the quality and integrity of our programme and the in depth nature of the training and support, we think you'll find the fees to be surprisingly affordable.
The course fee is dependent on the course option that you choose.
This is an investment that offers a substantial returns, both in terms of the significant personal development that you will experience and, of course, the wonderful long term business opportunity that it will make available to you.
Please click on the link below for more details:


More on the Course Fees & Payment Options