SO MUCH MORE THAN JUST ANOTHER LIFE COACHING COURSE!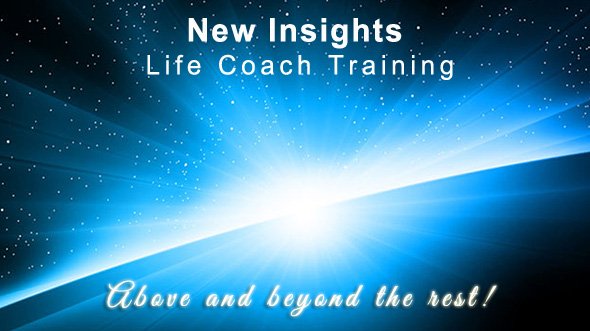 If you're simply looking for a life coaching course, you're spoilt for choice. There are a great many available in the market.

But if you're really serious about becoming the best life coach you can be and making a real and positive difference in this world, then welcome, you have arrived at the right place!
At New Insights, we go above and beyond the rest to bring you a world-class life coach certification training programme that is internationally accredited, convenient, highly effective and affordable.
It is our mission to bring personal freedom, confidence and growth to people of all walks of life through life coaching. We achieve that by training people like you to become great life coaches, delivering great results for their clients.
NO ORDINARY LIFE COACHING COURSE

Please take a few minutes to watch the following video and then scroll down to find out why the New Insights Life Coach Training and Certification Programme is no ordinary life coaching course!
---
---
the unrivalled Convenience of
homE study

The New Insights Life Coach Training and Certification Programme was developed after extensive research.
We found that most people who show an interest in becoming a life coach are already in employment or leading busy lives as home executives and the like.
That's why we developed our Programme in a super-convenient home study format. A more common term used nowadays is 'distance learning' but that's a little 'cold and removed' for our liking as we pride ourselves on our caring and responsive support.
Simply put, the benefits of this approach are:
You enrol when it suits you (not us)!
We courier deliver an extensive pack printed material right upfront when you enrol with us. This is yours to keep forever as a handy reference.

You get access to extensive online resources to support you through your study and practicals

You study and complete the practicals as and when it suits you, in your own time and at your on pace.
There is no need for you to travel anywhere. The assignments and even the theory exam get emailed to you wherever you may be.
You get world-class training at fees that are relatively very affordable.

best training – best life coaches – best results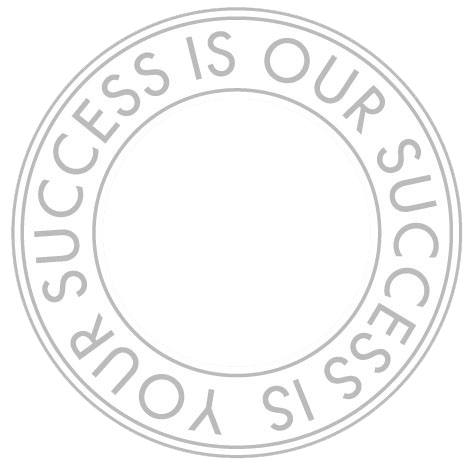 There's one thing you can be absolutely sure of. Life coaching is a word-of-mouth business!
In other words, your success in attracting new clients is intricately linked with the results that you are able to deliver for your existing clients.
If you consistently help your clients to achieve great results  your practice will expand and flourish. On the other hand, if your clients are consistently underwhelmed by the service you offer, your practice will shrivel and die.
At New Insights we understand full well that our success is  closely linked with the success of our coaches. That's why we refuse to offer yet another mediocre life coaching course.
Our certification training programme has evolved through many years of research and experience into what we honestly believe is world-class and which is internationally respected and accepted.

skills training that is both broad based and comprehensive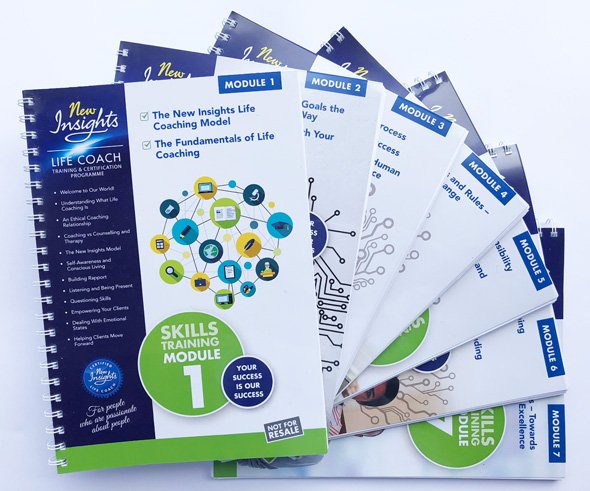 The extensive skills training theory is presented in seven modules,
each building neatly on the previous one.

Ordinary people are inclined to underestimate the extent of the skills, tools, techniques and concepts that need to be properly understood and applied before one can become a professional and effective life coach.
Many training providers trade on this and make money from promoting a life coaching course or courses that are substandard, lacking in either the depth or the breadth of information provided.
The New Insights programme, on the other hand, offers skills training that is both broad based AND comprehensive by covering absolutely everything you need to know, in some depth.

Our seven skills training modules are written in a non academic, easy-to-apply way and are packed with information, tools, techniques, exercises, examples, quotes, hints, tips and thought provoking insights.
In more than 60 chapters of material  we cover everything, including but not limited to:

the fundamentals of effective life coaching;
contracting with clients and the code of ethics;

living conciously and finding a life of balance;
understanding the change process;
goal setting and development of action plans to achieve goals;

human needs as a driver of behaviour;

beliefs and belief systems and how these effect our ability to get what we want from life

values and value systems and how to live an authentic value-driven life;
the empowering and disempowering nature of the rules we subconsciously hold for living our values

personal responsibility,

communication and projection and NLP techniques

finding one's life purpose;

setting 'mega goals';
ending or extending the coaching contract; and

advice and techniques to propel you towards coaching excellence.
To view a brief extract from one of the Skills Training Modules, please click on the 'fullscreen icon' at the centre of the image below to open it in convenient full screen Flipbook format.
Click on the X or hit esc on your keyboard to exit fullscreen mode.

(Please remember – this is just a tiny snippet of what's available in the programme)!

substantial real world practice coaching
Our goal with the training programme is to ensure you are not just well equipped with an understanding of the theory but that you are suitably confident and competent to apply it effectively.
That's something that is often a bit of an afterthought in a standard life coaching course! If it does happen it normally involves interaction between trainees rather than with third parties.

With New Insights you will choose eight volunteer practice clients and will engage in both structured coaching using our System (see below) and unstructured, or free-form coaching using a generic coaching model.
Generally speaking you will be expected to invest at least 50 hours  in practice coaching.

a structured 15-session transformational coaching system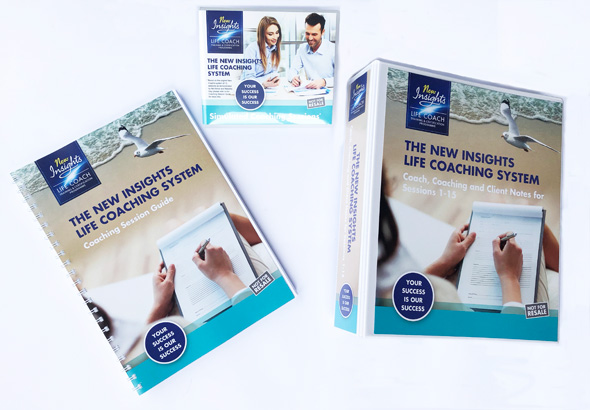 A standard life coaching course is likely to impart some theory and perhaps a little practice coaching using one of the many generic coaching models out there ... BUT then leave you to your own devices when it comes to actual coaching for reward.
A head full of theory but a lack of confidence in how to go about applying it is common in graduates of many ordinary life coaching courses.
New Insights is different.
We've designed a wonderful, transformational, 15-session Life Coaching System which is made available to you to use in fulfilling the practical requirements for your certification, subject to your agreeing to abide by our Code of Ethics.

This tried and trusted system, which you can choose to license from us when you become a certified coach, comes with the full range of extensive coach, coaching and client notes, a step-by-step guide and – as a bonus – a series of videos showing how sessions are conducted.
To view an extract from the Session Notes that make up our Life Coaching System, please click on the fullscreen icon at the centre of the image below to open it in convenient full screen Flipbook format.

(Please remember – this is just a tiny snippet of what you will find in the actual System)!
helpful and supportive
online facilities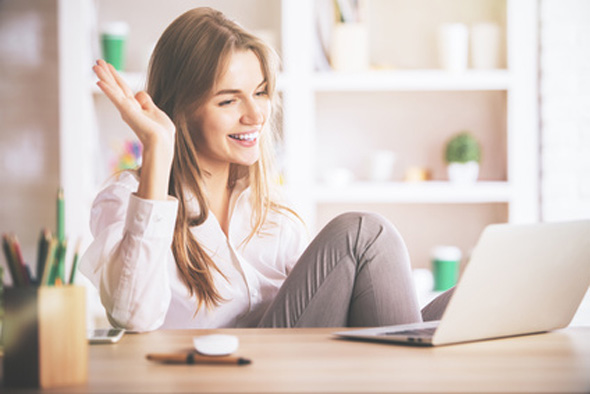 We offer a variety of online facilities to help enhance your training experience and provide the various resources you need along the way.  For example:

The Forum is a veritable gold mine of information. This where you learn, share and grow together with other trainees and certified coaches, by posting questions and offering  comments and suggestions on all the main topics covered in the training.
Our award winning blog, Life Coaching Insights, contains over 250 insightful articles about human motivation, life coaching and general personal development.
This Blog is complemented by our Podcast, New Insights on Life.

a robust yet meaningful
certification process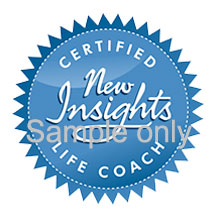 On completion of our certification requirements you will receive a professional looking certificate detailing all of your key achievements.
You will also be entitled to display our certified coach identifier (like the one on the right) on your website, in your emails and in other marketing material you may produce.

Our certification process goes well beyond that found in a standard  life coaching course. It blends a balanced approach with the necessary rigour and  includes:
A Code of Ethics that you will sign and be bound by

Self Test assignments to be completed after each of the seven skills training Modules
A Theory Exam covering all seven Modules

Practice Coaching (totalling in excess of 50 hours) using the New Insights Life Coaching System with a total of eight volunteers who are required to complete online feedback forms

A Self-Reflection Questionnaire

For the PRO option that we offer we also

assess recorded video footage

of your practice coaching



help to plan, promote and sustain your future coaching practice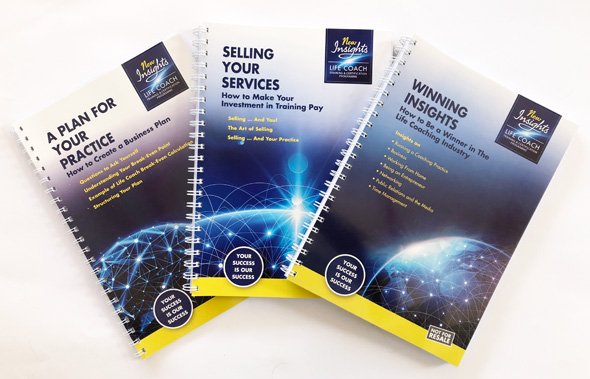 This is another good reason for our claim that the New Insights Life Coach Training and Certification Programme is far more than just another life coaching course.
We go beyond ensuring that you are confident and really well equipped to coach professionally.
We also offer you assistance with developing a plan for your life coaching practice and some sage advice and techniques to sell and promote your coaching services and maintain a thriving  practice into the future.
When you enrol in our Programme you get immediate access to three excellent business practice support manuals, chock full of strategies, templates and advice aimed at giving you and your practice a real competitive edge.
To view an extract from Selling Your Services, one of the three business practice support manuals, please click on the icon at the centre of the image below to open it in convenient full screen Flipbook format.

(Please remember – this is just a small taste of what we have produced to help you establish and promote your practice!)
caring and responsive support throughout your training and beyond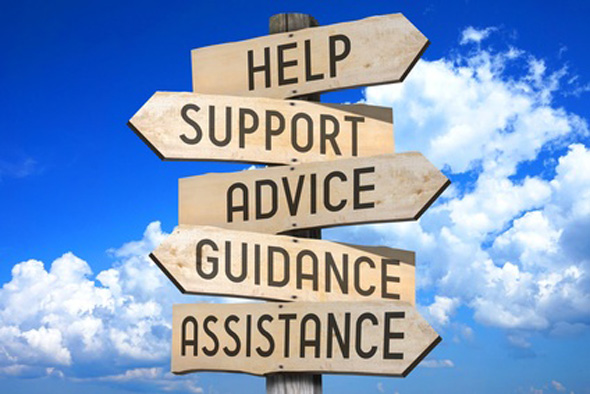 As a trainee life coach you can look forward to attentive and caring support from New Insights throughout and beyond the training experience.
We go the extra mile to make you feel part of a special group right up to and beyond your graduation as a New Insights certified life coach.
keen to know what others have to say?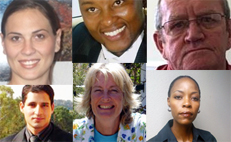 We're passionate about what we do and passionate about training that is of the best quality and represents great value for money.
But, hey, why not see for yourself if our trainees and certified coaches agree with our claims?
We have a large number of written and a small but growing number of video testimonials from our customers. You can take a look at a selection on our website by clicking here.
There are many more on our Facebook page which you can reach by clicking here.
And we have many enthusiastic commenters on our award winning Blog, which you can reach by clicking here.
still have questions?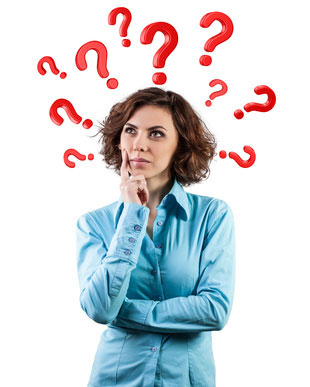 By now you should be getting an idea as to whether  the New Insights life coach certification programme represents the kind of training that you really want to embark on.
But, no doubt, you may still have a few remaining questions, such as these:
Are there any prerequisites for enrolling in the programme?

How long does this programme take?
When can I start?
How does this differ from an online course?

How much does it cost?
Can I pay in instalments?
Is the programme internationally accredited?
And so on ...

For answers to these questions and many more please click here: