New Insights Life Coach Training
and Certification Programme
You have chosen to enrol and make full payment upfront by Credit Card
---
Online payment is easy and secure through our
MyGate card payment processor. 
Please note that, at present, we only accept MasterCard and Visa.
Please follow these simple step-by-step instructions carefully.
We recommend you read through the steps first to familiarise yourself with the process before going ahead
(if you prefer offline payment, with your credit card,
we can offer this option. Please contact us for further assistance.)
---
STEP 1:

Go to the payment gateway

Once you have chosen your preferred course option, click on the relevant button in the section at the bottom of this page marked: 'MAKE PAYMENT'. 
You will be routed to a fully secure eCommerce payment gateway hosted by MyGate, a solution approved by both MasterCard and Visa and fully endorsed by the country's largest banks.
STEP 2:

Complete and submit payment details

You should see a form like the example shown below. Complete the form with your credit card details (these details are never visible to New Insights Africa staff) and click on 'Pay Now'.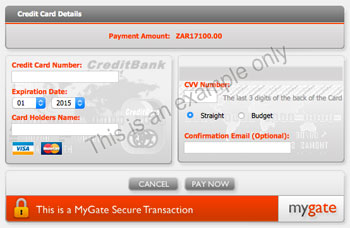 STEP 3:

Await authorisation

Please be patient while the transaction is authorised.

Once authorisation is complete, you will be directed back to an online registration form on the New Insights Africa website where you will be required to submit your contact and delivery details.

Note: If authorisation fails you will be directed to a failure notice on our site.
STEP 4:

Complete and submit registration details

Please complete and submit your personal contact and delivery details in the online Registration Form on this website (you will only be directed to this form if your payment was successfully authorised).

Once you do this you will receive an automated email response from New Insights Africa to let you know we have received your payment and delivery details.

Assuming everything is in order, we will commence arrangements to prepare and courier deliver your Programme material.
---
Make payment

SA Residents

Pay for CLASSIC Option R17,100

Pay for PRO Option R27,360

RESIDENTS OF OTHER AFRICA DESTINATIONS

Pay for CLASSIC Option R17,200
Pay for PRO Option R26,200
---
Need Assistance?
Simply call New Insights Africa during working hours on 0861 106 460 or 021 680 5090 (+27 21 680 5090 from outside SA) or email us.