21 Tips for a More Joyful Life
---
Important - please read first

Insights, the newsletter, has become Life Coaching Insights, the blog!

It's still free of charge but the new format makes it easier for you to comment and interact with us.

BUT ... if you would like to continue receiving notifications of the weekly blog posts you will need to subscribe soon.

As a courtesy to Insights readers we will continue to send reminders through this newsletter until the end of October. After that, if you haven't subscribed to the new blog, you'll miss out.

Please take a minute of your time now to SUBSCRIBE to Life Coaching Insights using the link below.

When you've done that please UNSUBSCRIBE from Insights using the link at the bottom of this newsletter. You will received an automated response asking why you have left - please just ignore this.



Subscribe to Life Coaching Insights


---
Life Coaching Insights
This week in the blog ...
This last weekend as Jenni and I contemplated the forthcoming arrival of our daughter's 21st birthday, I thought it might be appropriate to compile a list of 21 Tips for leading a more joyful life.

No doubt you have some of your own to add? Or perhaps you would like to add comments on my list?

Whichever that may be, I'd love to hear from you!

Read this week's blog post to find out more:


Till next week...

Warm regards,

Bill.


---
Copyright New Insights Africa. All rights reserved.
---
New Insights Africa Life Coaching Skills Training - Putting an Extraordinary Business and Lifestyle within reach of Passionate People.
If you think you are Life Coach material why not study, at your own pace and in your own time, with New Insights Africa? If you have the passion, we have the skills, knowledge and support to offer you. Please visit our website.

https://www.life-coach-training-sa.com
---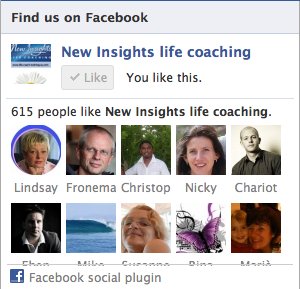 ---
If a friend forwarded you this newsletter and you would like to subscribe please click on the link below:
---