Life Coach Training and Certification

in South Africa, Africa and beyond
Welcome to our website!
We are specialists in the field of training people to become life coaches. That's all we do! Our sole purpose is to train people like you to be confident, skilled and successful life coaches.

So if you have a genuine interest – not just in becoming a life coach – but in becoming the best life coach you can be, then congratulations, you've found your 'perfect home' :-)

In this brief video a handful of trained and certified coaches summarise their views on the New Insights Life Coach Training and Certification Programme. For a bigger selection of detailed testimonials click here.
Please note: We also have a company in the UK that serves the UK and international markets outside of Africa. To visit our sister website please click here.
---
"If you want life coach training that is world-class, comprehensive and professional, in a super-convenient and affordable home study package, look no further than New Insights!"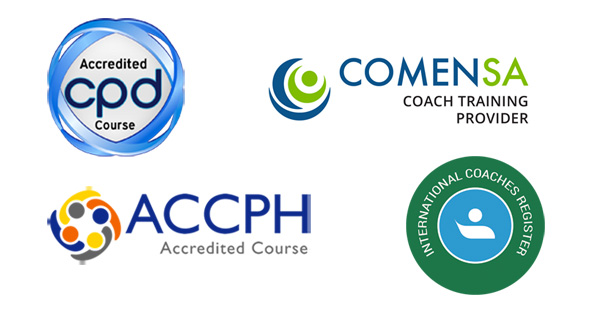 Internationally accredited, endorsed and quality assessed by local and international professional bodies

---
JOIN A BILLION DOLLAR GROWTH INDUSTRY. TRANSFORM YOUR own LIFE ... then do the same for others

In the US, life coaching is currently a $1bn industry that is growing rapidly. In South Africa and elsewhere in Africa it is an emerging profession that is just beginning to see explosive growth.
But perhaps even more important is the fact that life coaching, unlike many other careers, can be so hugely meaningful and rewarding. Using a wide range of simple yet incredibly powerful personal development tools and techniques. life coaches help their clients turn aspirations and dreams into reality.
WHY life coach training WITH new insights?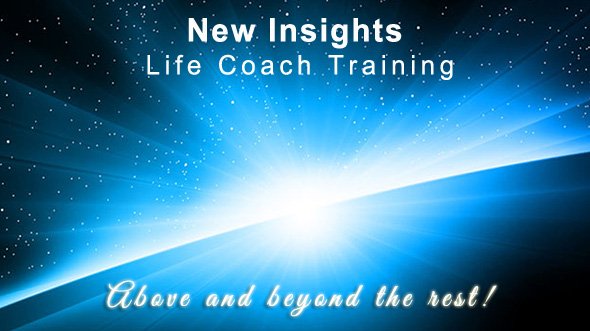 At New Insights we offer life coach training that goes above and beyond that offered in most other courses. As a trainee life coach you will be exposed to a truly life changing experience that will equip you  to bring about similarly amazing results for your future clients. 

The New Insights Life Coach Training and Certification Programme will change your life and your outlook on life forever! It will give you the self awareness, knowledge, confidence, skill and experience to coach professionally and successfully here in South Africa or anywhere in the world you choose.
We have a lot to share with you. Keep reading on this page to find out how New Insights can help you turn a passion for people into a lucrative and wonderfully rewarding career, making a real and positive difference in the world.
Or, if you're in a hurry and/or you prefer to read offline, why not request our ...
... COMPLIMENTARY 30-PAGE EBOOKS

We have prepared two comprehensive and completely free 30-page ebooks for you to download. These are presented in easy to read Q&A format and aim to answer all the questions you may have about life coaching, becoming a life coach and the life coach training and certification programme that New Insights offers.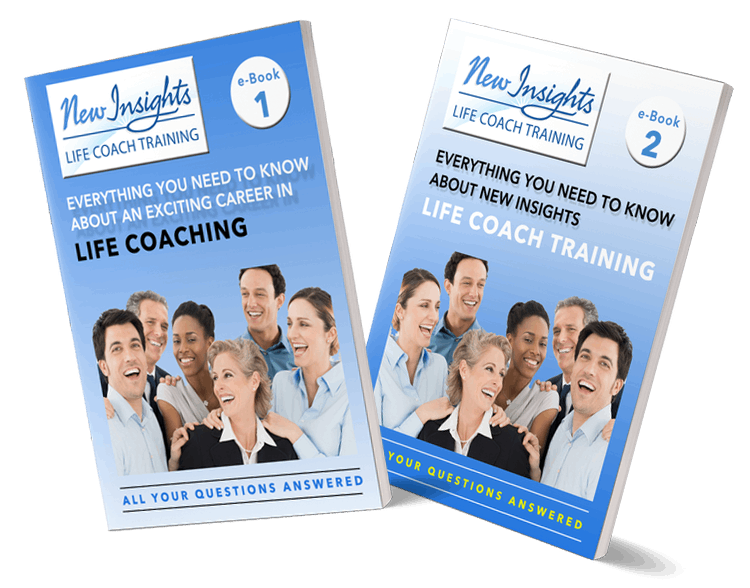 TRAINING THAT'S affordabLE, FLEXIBLE AND without compromise

Our home learning approach means you get the very best value for your investment in training:
World-class training and support at very affordable fees, with interest free instalment payment options available to you if you wish to spread the investment over three, six, nine, twelve or even fifteen months.

The convenience of having our comprehensive study material courier delivered to your door. This is for you to keep forever as handy reference material.
 The flexibility to enrol whenever YOU decide and to study and practise in your own time and at your own pace.
A Life coach training PROGRAMME that's unique ...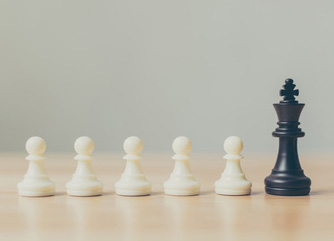 Our certification programme is oriented towards home learning.

This is perhaps more commonly known as 'distance' or 'remote' learning but we dislike any implication that we may be disconnected from our trainees. We pride ourselves in warm, caring and responsive support :-)

Our Life Coach Training and Certification Programme  is underpinned by extensive printed study material that is courier delivered, upfront,  when you enrol with us. The printed matter is backed up by an array of online resources including audio and video material.
We have no fixed 'intakes'. You can enrol in the Programme whenever it suits you. Then you train and complete the practice coaching in your own time, at your own pace, with caring and attentive support on hand whenever you need it, for up to two full years, if required.
Based on results from past trainees, you can expect to take, on average, some 9 to 15 months to complete the certification training, which involves some 300 - 350 hours to study the theory and complete the practice coaching requirements.

YET grounded in real life ...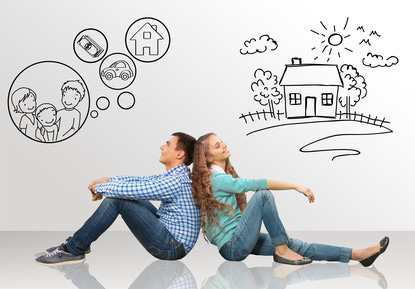 We have the greatest respect for academia.

But let's face it, life coaching is all about working with down-to-earth people, helping them live to their strengths, achieve their goals and dreams and connect with their purposes in life.

Our life coach training is designed to be highly effective and easy to apply. To this end, the skills training material is written and presented in a non-academic way and is replete with examples, exercises, quotes and other real life insights.
In addition, we provide a detailed guide on how to run practice sessions, with or without our System (see below), with your volunteer practice clients.

Because of the extensive practice coaching required, we choose to refer to those enrolled in our Programme, not as 'students' but as Trainee Life Coaches. This is a small but important example of what makes New Insights life coach training different from the rest!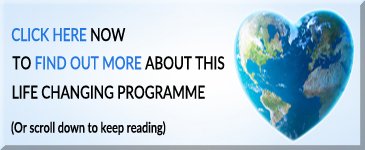 aCCESS TO A coaching system that's proven to transform lives ...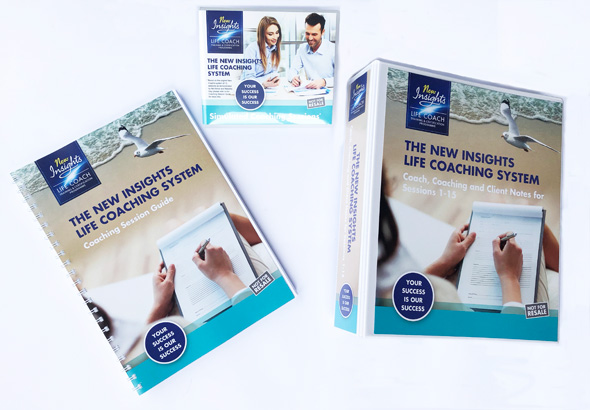 Some training institutes believe their job is done once they've imparted the theory and a bit of classroom practice.
At New Insights we go well beyond that. Our life coach training programme includes access to the well-researched and cleverly structured New Insights Life Coaching System for practice coaching purposes.

This tried, tested and trusted transformational coaching system comprises 15 sessions that span everything from an eye-opening session on life appraisal to an emotive session on life finding purpose.
An extensive set of beautifully designed coaching and client notes is made available for practice coaching purposes and can, optionally, be licensed for professional use by coaches once they have gained certification.
Our life coach training also includes exposure to free-form coaching using one of the many generic models that exist in the market, thus giving our trained coaches the flexibility to offer their clients more  structured transformational coaching or needs based transactional coaching. 
BACKED UP and supported BY People with a Passion for People ...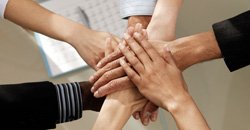 At New Insights we like to say that we "live, eat and breathe life coaching"!
Seriously ... our entire business focuses around training individuals  like you to become quality life coaches ... coaches who will help us deliver on our mission to bring greater Freedom, Confidence and Growth to people from all walks of life.
At New Insights life coach training is not one of many types of training we offer, or an 'add-on' service. It is our sole business and one we are both passionate about and dedicated to!
At New Insights we want nothing more than to see our trainees become certified life coaches with the level of self awareness, knowledge, skill and experience to be truly successful.

Not only is this important in achieving our mission but, quite frankly, our reputation hinges on how effective our training is perceived to be. At the end of the day, the clients of the coaches we train are the judge of that. :-)
ASSISTANCE WITH PLANNING, PROMOTING AND SUSTAINING A SUCCESSFUL COACHING PRACTICE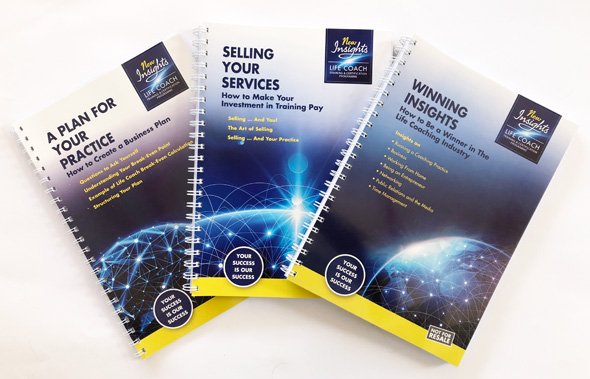 Completing high quality life coach training is one thing.

But to be a successful life coach you have to know how to plan, establish, market, sustain and expand your own life coaching practice.
Our Programme includes a wealth of material, drawn from many years of experience, to help you do just that.
New Insights certified life coaches also have the option to subscribe to our exclusive and dedicated life coach directory.

We don't wave good bye to you once you've completed our training. We offer you a special place in our hearts for the long term because we know that ...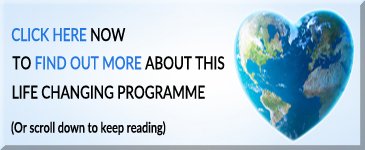 A preview of OTHER INFORMATION YOU'LL FIND on this website ...
Use the menu bar at the top to navigate to where you want to be – or simply scroll through the preview below and click on the relevant image or link to open the page in a new window in your browser.