A Boerewors Roll for the Soul

- Awaken to the magic of the life you love -
A Boerewors Roll for the Soul – awaken to the magic of the life you love.
With its title unashamedly inspired by the author's love for the rainbow nation of South Africa – and a quirky sense of humour – will take you on a wonderful journey of personal transformation.
Bill Burridge invites you to step back from your frenetically paced, externally-focused life. He encourages you to look beyond your life-sapping day-to-day demands and tune into the signals from our spectacular Universe. He suggests these signals are clear indications and reminders that a richer, more meaningful – and more magical – life is there for the taking.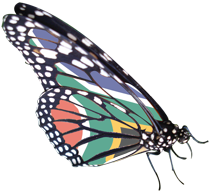 A Boerewors Roll for the Soul offers simple guidelines and thought provoking insights to help you take back control of your life, reconnect with your purpose, and enjoy a life of personal freedom.
This intriguing and inspiring book will provide you with compelling reasons to pause, re-evaluate your existence and make the changes that will set and keep you on course for a life of great joy, happiness and fulfilment.
After reading it you will:
Awaken to the fact that anything in this magical life is possible;


Know how uniquely well-equipped you are to explore life's possibilities to the full;


Take a new and dramatically more positive approach to change;


Form a powerful connection with your inner voice as it guides you along the path towards the life you dream of;


Possess simple strategies for maintaining a new life of real meaning and joy.
About the Author:
Bill Burridge is the owner of New Insights, a life coach training company with a mission to bring personal freedom, confidence and growth to people from all walks of life in his adopted country, South Africa, where he lives, near Cape Town, with his wife and two children.
Bill is no stranger to change. After an early upbringing in England, followed by family emigration during the difficult pre-teen period, Bill was to graduate as a civil engineer and practice for six years before opting to change course. Armed with an MBA degree, Bill joined a multinational corporation and later returned to the land of his birth to pursue his career.
27 years after entering employment, Bill embarked on another sea change. He chose to forego his corporate career and return, with his family, to South Africa – and a life of self-employment – to pursue his passion of motivating and inspiring people.

Free Preview (chapter extract):
"We all experience defining moments in our lives. They can be wonderfully positive experiences or they can be extremely unpleasant, even traumatic, events. In many cases they are neither awful nor awesome happenings - and might seem almost trivial by some measures - but they remain defining moments nonetheless.
What, then, is so special about a defining moment and what are the implications of such an event?
As you travel the road of life you are constantly presented with opportunities – a chance to slow down, speed up, turn a bend, pass through a dip or crest a hill - and along the way the road may widen or narrow, the surface may change and the outlook take on a new perspective.
Using the road and journey analogy, a defining moment can be compared to a major intersection or cross-roads where one is forced to stop, read the signpost, reflect and decide whether or not to follow a new route with different characteristics, different scenery and different experiences.
Defining moments involve critical decisions that you must make and that will shape the person you will become. Although these opportunities are presented to you (by life, God, source energy or the Universe - whichever you prefer) the critical decisions are for you to take, as you see fit, by exercising your free will.
If you are fearful of change and the 'unknown', the choice is a simple one – retain the status quo, stick to the road you're on, don't deviate unless forced to. If the new route looks appealing and you are capable of embracing change, you may find that it holds all manner of intriguing prospects, new and exciting opportunities and, occasionally perhaps, rather daunting challenges.
The rate of personal growth that we enjoy is directly proportional to the degree of variety that we experience, the number of new challenges that we take on, the new 'places' we visit and the degree of change that we willingly embrace.
Let me share with you one of the defining moments in my life. It certainly doesn't rank as an earth shattering event – but it was to play a huge role in shaping my future.
After qualifying as a civil engineer in the late 70s, I joined a large construction company and became involved in a number of small but diverse construction projects in what is now KwaZulu Natal province on the east coast of South Africa.
A few years later I was invited to join a young team that had been selected to run a large and exciting contract involving the construction of three of the biggest dual carriageway road bridges – or 'viaducts' on the 'N2 South' national road between Durban and Scottburgh.
The project posed a daunting challenge – partly because of the young, inexperienced nature of our team – but primarily because of the nature of the technology that was to be used. The bridge building technique, known as 'Incremental launch', had been pioneered in Germany a few years previously, but was regarded as revolutionary in South Africa at the time.
The best way I can describe my life in those days, in just a few words, was 'work hard, play hard'. The weekly segment construction schedule required in order to render the construction technique profitable, demanded of my colleagues and I that we work really long hours in whatever type of weather conditions that unpredictable subtropical climate cared to throw at us.
There was, as I said, a flip side to that tough working routine. Whenever the opportunity arose, we partied as if there would be no tomorrow!
As the pre-stressing engineer for the viaduct's deck construction, my role was a pivotal one, as the work required of my team fitted neatly on the critical path for each week's schedule. When we encountered unexpected problems, there was no option other than to work even harder and longer to resolve the problems and prevent a serious and costly delay to the overall project.
One night (that I remember with extraordinary clarity) I was wrestling with an almost intractable problem caused by over-design on one specific part of the bridge deck. The resulting massive tangle of reinforcing bars and pre-stressing cables threatened to render the smooth pouring of concrete the next day a virtual impossibility.
I stood up, scratched my head, and looked up at the pitch-black night sky that was framed by a half dozen powerful spotlights arranged in a semi-circle, illuminating the trouble spot. Until that point, I had been oblivious to the fact that we were right in the teeth of a huge storm. Drenching rain had been sluicing down for hours but I had been so immersed in the problem at hand that I had barely noticed it.
Then I gazed at my watch and another realization struck me – I had been working non-stop for nearly 48 hours. As I slowly came to my senses, knowing Jenni would be wondering what on earth had become of me, I began to feel totally exhausted, miserably cold and uncomfortably sodden. Even my supposedly rainproof gumboots were waterlogged!
As my mind wandered away from construction matters for the first time in many hours, I felt consumed by the need to take stock of who and what I really wanted to be in life.
This was a defining moment.
The very next day I took a critical decision that set in motion a chain of events that was to culminate in my resignation from the construction company and enrollment in full time study for a postgraduate MBA degree.
My life was about to take a dramatic and exciting new turn."


HOW TO Buy This Book
A Boerewors Roll for the Soul is available to order from Amazon.com, Takealot, Exclusive Books, Loot and many leading retailers. (ISBN number: 9781452005706)
If you are a South African resident, you will get the best price by ordering directly from this website. But you'll have to hurry to reserve your copy. Please click on the SA flag below.
If you live outside of SA, the most cost effective way to purchase is online via the publisher's (Authorhouse) website (in either the UK or the US). Simply click on the appropriate flag below.
If you'd like to read more before purchasing the book, please scroll down.