"For People who are Passionate about People!"

Why Choose


New Insights


Life Coach Training?

New Insights Africa is the southern African licensee for New Insights Life Coach Training.
At New Insights Africa we're passionate about our mission to train, empower and support a country-wide network of life coaches, inspired to bring personal freedom, confidence and growth to South Africans from all walks of life.
The New Insights Life Coach Training Programme was designed to have the greatest possible impact on the world by making quality life coach training that is empowering and highly effective, both convenient and affordable.
We like to use the C-A-F-E acronym to sum up it's main features: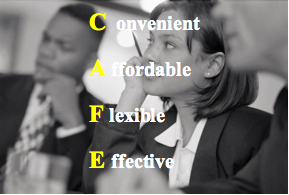 To us, the word 'Cafe' - at least in its original European sense - conjures up a relaxed and informal, yet business-like environment with an exciting, 'networking' style buzz.
That's how we want you to feel when you join the growing numbers of New Insights life coach trainees around the world ...
Comfortable in the knowledge that you can work in your own time and at your own pace;
Content knowing that you're part of a friendly, caring and supportive group;
Excited about learning powerful, tried and trusted skills and techniques that will help you leave a positive mark on the world!
The Convenience of being able to
Study when it Suits You
The Convenience of New Insights life coach training stems from the fact that the theory element of the programme is designed specifically for home study. You even conduct the practice coaching element when and where it suits you and your clients ... not us!
Please note, this is not an online programme.
You get all the required learning materials, CDs, DVDs and coaching session notes in printed and electronic form physically delivered in your pack to your door.
Having said that, we know and use the power of the Internet. We provide back up material and resources from our website for you to download at your convenience as and when you might need to.
A Realistic yet Modest Investment
We keep our overheads low and you reap the benefits.
Fees for the New Insights Life Coach Training Programme, while not cheap, are still relatively modest compared with most other quality training courses on the market.
With New Insights Life Coach Training you can choose from three course options and pay upfront to secure a healthy discount, or choose from three different payment plans.
A Course That Fits Easily Into Your Life
Life coaching is about helping people to derive more enjoyment and fulfillment from their lives - empowering them to exploit their full potential and live their lives to the full.
The New Insights life coach training philosophy is about treating you in the way a coach would treat a client. Our course should fit in with your lifestyle not dictate to you how your lifestyle should be.
New Insights life coach training is wonderfully flexible. If you want to work flat out on the programme one month and then take things easy the next before picking up the pace again when it suits you - then so be it!
Most of our trainees who decide to complete certification do so in under a year. But we allow you a full two years - so you have more than enough time on your hands!
Simple, Powerful and EFFECTIVE!
Convenient, Affordable and Flexible is great... But it's not enough!
Any life coach training programme worth its salt must deliver!
In other words, without beating about the bush, you need to be adequately equipped with the skills, techniques and structure to coach – professionally and for financial gain – once you complete the course.
And the New Insights Life Coach Training Programme does exactly that.
Not only will you learn and get to practise great coaching skills, you will get access to some excellent marketing, sales and business planning tools too.
You see, our philosophy is that having great coaching skills, while vitally important, constitutes just one element of the toolset that you'll need to be a truly successful life coach.
There are two other important elements that you'll require, both of which are built into the New Insights Life Coach Training Programme:
A structured and well balanced coaching programme that you can follow - and adapt as you become more experienced - to ensure that your clients become walking, talking advertisements for your practice.
Access to sales, marketing and business planning expertise and techniques that aim to ensure that your practice is a roaring success (after all, what good is it being a brilliant life coach if you haven't the first clue how to run your own small business?)
Support while you are training and after you have become certified is something we take seriously at New Insights Africa. Our state-of-the-art online Forum and access to what is arguably the world's best online Journalling facility give our trainees and coaches the peace of mind that they are in good hands.
Certification you'll be proud of
Our certification process is designed to ensure that New Insights trained coaches are top quality, capable of life coaching anywhere in the world where language is not a barrier.
The guideline requirements provided by COMENSA (Coaches and Mentors Association of SA) for practitioner coach membership are applied and your understanding of the theory and ability to apply it effectively will be properly assessed before we will grant you a certificate of competency.


---
From New Insights Coach Training to NIA Home Page