Unleash  Your  Passion  for  People

Unleash  Your  Passion  for  People

Certification Levels
New Insights Life Coaching
New Insights trained coaches all go through a rigorous certification process which includes both theory and practical elements. They are also required to sign a declaration to abide by our code of ethics in their coaching.
There are four different levels of certification that a New Insights trained coach can achieve. These are shown below:


---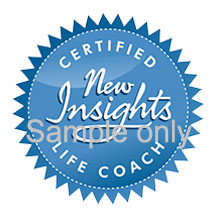 The New Insights Certified Life Coach has received high quality training and is licensed to deliver the 15-session New Insights Life Coaching System to his or her clients.
Training includes exposure to extensive skills training theory tested by examination and at least 50 hours of practice coaching with client feedback.


---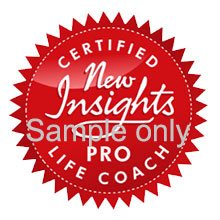 The New Insights Certified PRO Life Coach has gone beyond the training required for the standard certification level.
PRO level certification status also requires the coach to be coached and mentored through the entire 15-session New Insights coaching system by a VIP level coach.
Additionally, the PRO coach has successfully submitted to a video-based assessment of his or her coaching competency by the New Insights competency assessment centre.


---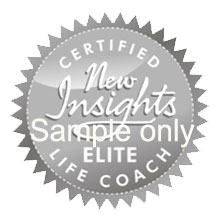 To achieve New Insights Certified ELITE Life Coach status the coach is required to complete all requirements for PRO status.
In addition, he or she is required to attend and successfully complete a New Insights Advanced Coach Training Workshop, which is run over at least two full days.


---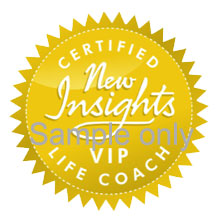 New Insights Certified VIP (Valued Independent Partner) Life Coach status is our top certification level and is available through invitation only.
Selected ELITE level coaches are invited to attend a two day workshop and receive in-depth exposure to the New Insights systems and processes as well as training in supervision, mentoring and presenting.
VIP status is valid for two years after which it is renewed by mutual agreement between New Insights and the coach.



---
To find a life coach to suit your needs
please click here:
To find out MORE about LIFE COACHING AND NEW INSIGHTS TRAINING TO BECOME A CERTIFIED LIFE COACH
CLICK HERE: