2022 Satisfaction Ratings

FOR New Insights Life Coach Training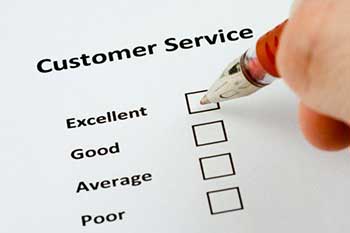 ---
No matter what we may think, our company and our training is only as good as our trainees and certified coaches say it is!

So we request their feedback and satisfaction ratings at various points during their experience with us. Our surveys are voluntary and there are no incentives or disincentives offered.
The aggregated results of these surveys are updated annually and apply to the full calendar year as shown in the page title.
Initial FEEDBACK: SHORTLY AFTER ENROLLING

Our trainee life coaches are asked to provide their initial impressions on various aspects of their early experience, through a questionnaire sent to them approximately six weeks after enrolling.
Trainees are given three options to choose from, viz.: 'Exceeded My Expectations', 'Met My Expectations' or 'Fell Short of My Expectations'.
The chart below shows the percentage of trainees who rated us in each of these three categories (Exceeded = dark green; Met = light green; Fell short = red)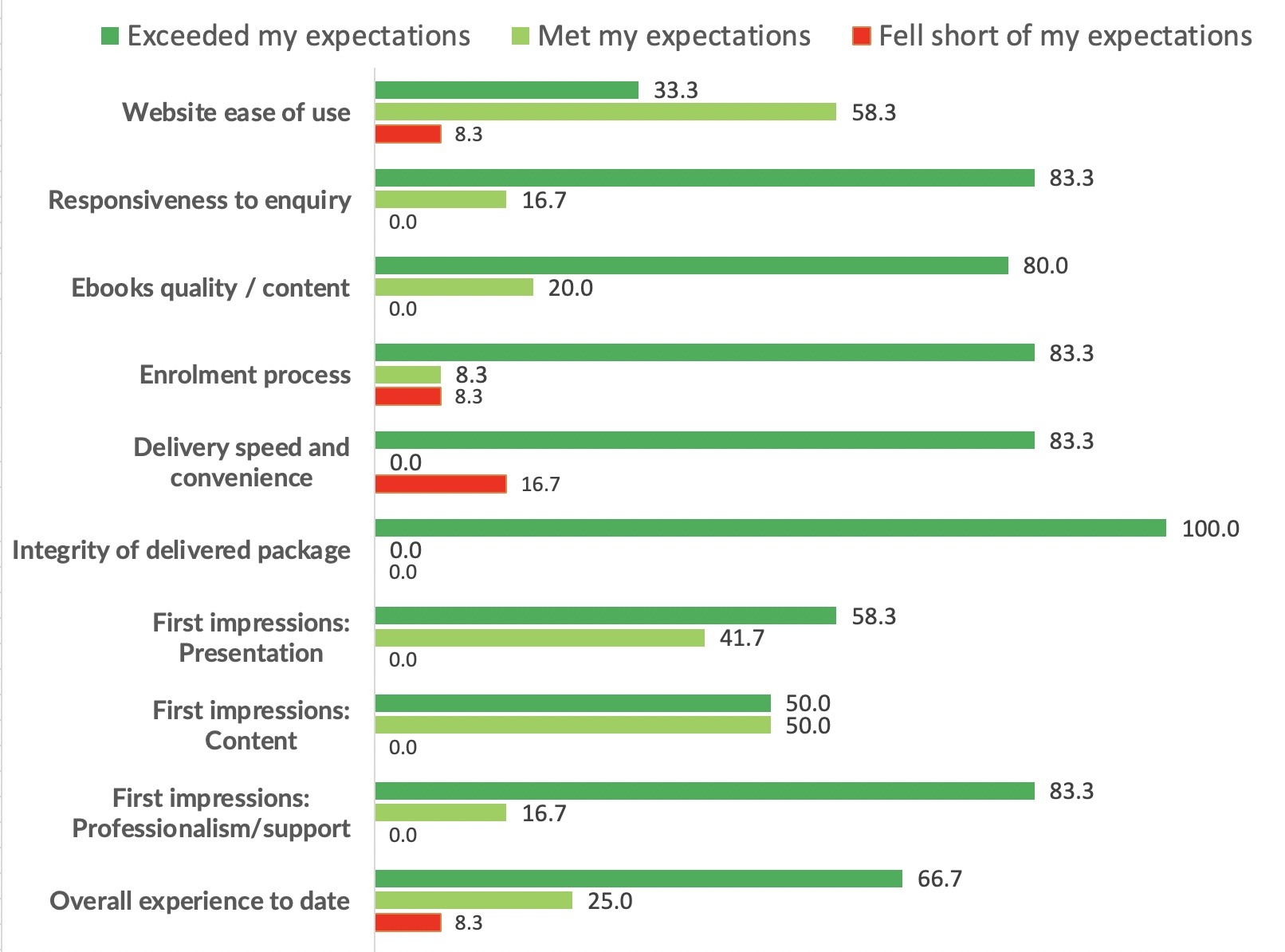 FEEDBACK AFTER COMPLETION OF EACH THEORY MODULE

On completing each of the seven skills training theory modules, our trainees are requested to rate their  satisfaction with aspects of the Module on a scale from 1-10, where, as a guideline:
1 = Awful,
5 = Average
10 = Awesome
In the chart below, the average trainee ratings of four aspects of the training are shown for each Module:
Red line: The usefulness and ease of application of the knowledge imparted
Blue line: How interesting/educational you found the content and how appropriately the material was presented
Orange line: Contribution to your own level of self awareness and personal development.
Green line: Your overall satisfaction with New Insights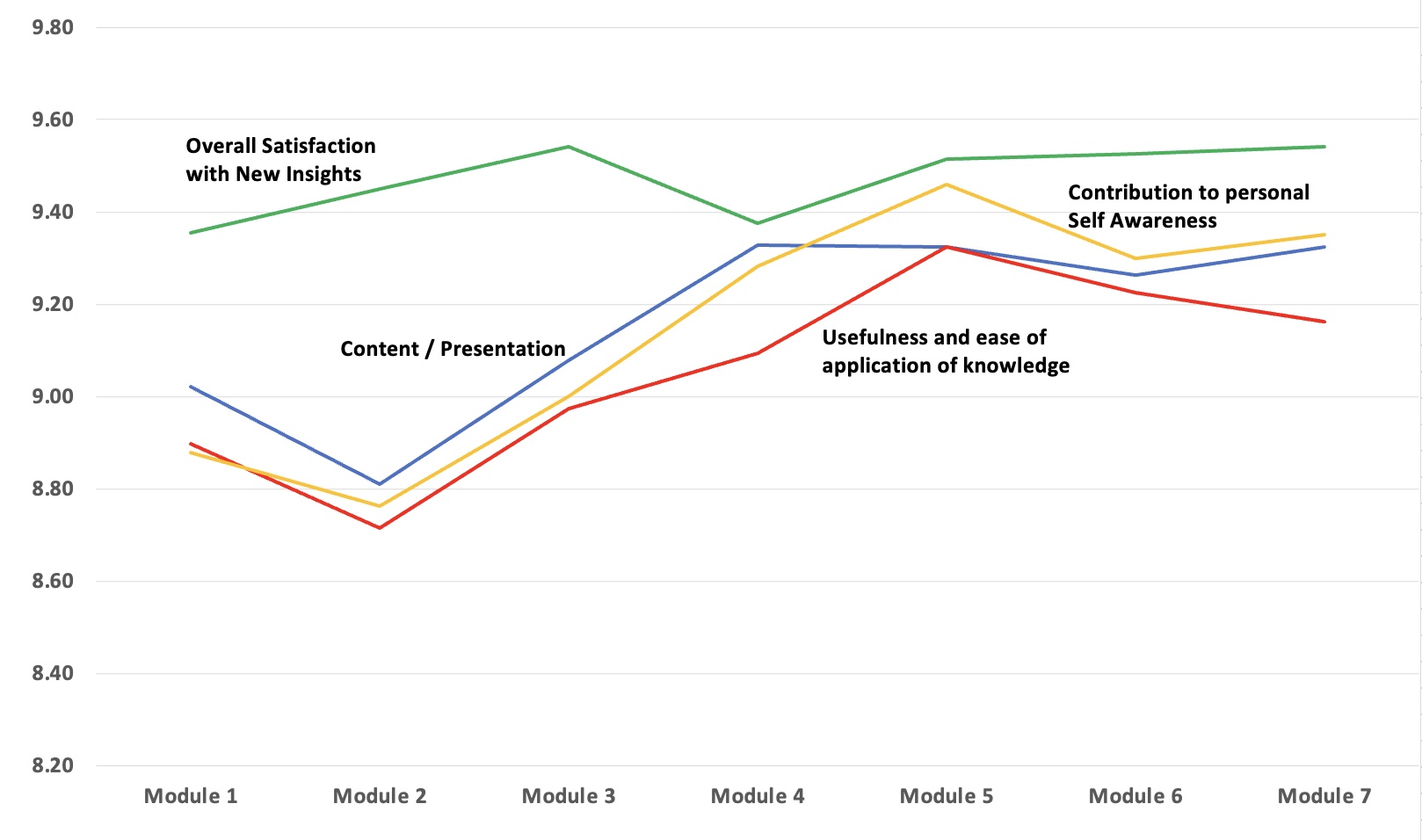 FEEDBACK SHORTLY AFTER ACHIEVING  CERTIFICATION

1. Detailed feedback
Our certified coaches are asked to rate their experience of different aspects of our Programme, by choosing from: 'Excellent', Good, 'Acceptable', 'Somewhat Inadequate' and 'Poor'.
The chart below shows the percentage of coaches who rated us in each of these five categories (Dark green = 'Excellent', Light Green = 'Good', Grey = 'Acceptable'):

We also test certified coach perceptions of our support by asking coaches to rate us on three aspects of support with ratings ranging from 'Absolutely delighted' to 'Very disappointed'.

The chart below shows the percentage of newly certified coaches who rated us in each of  these five categories:
2. overall feedback
Using a slider mechanism, newly certified coaches were asked to rate our training programme in terms of the following six attributes, on a scale from 0-100.
To date we are very proud to have been rated well above 90 on each and every attribute!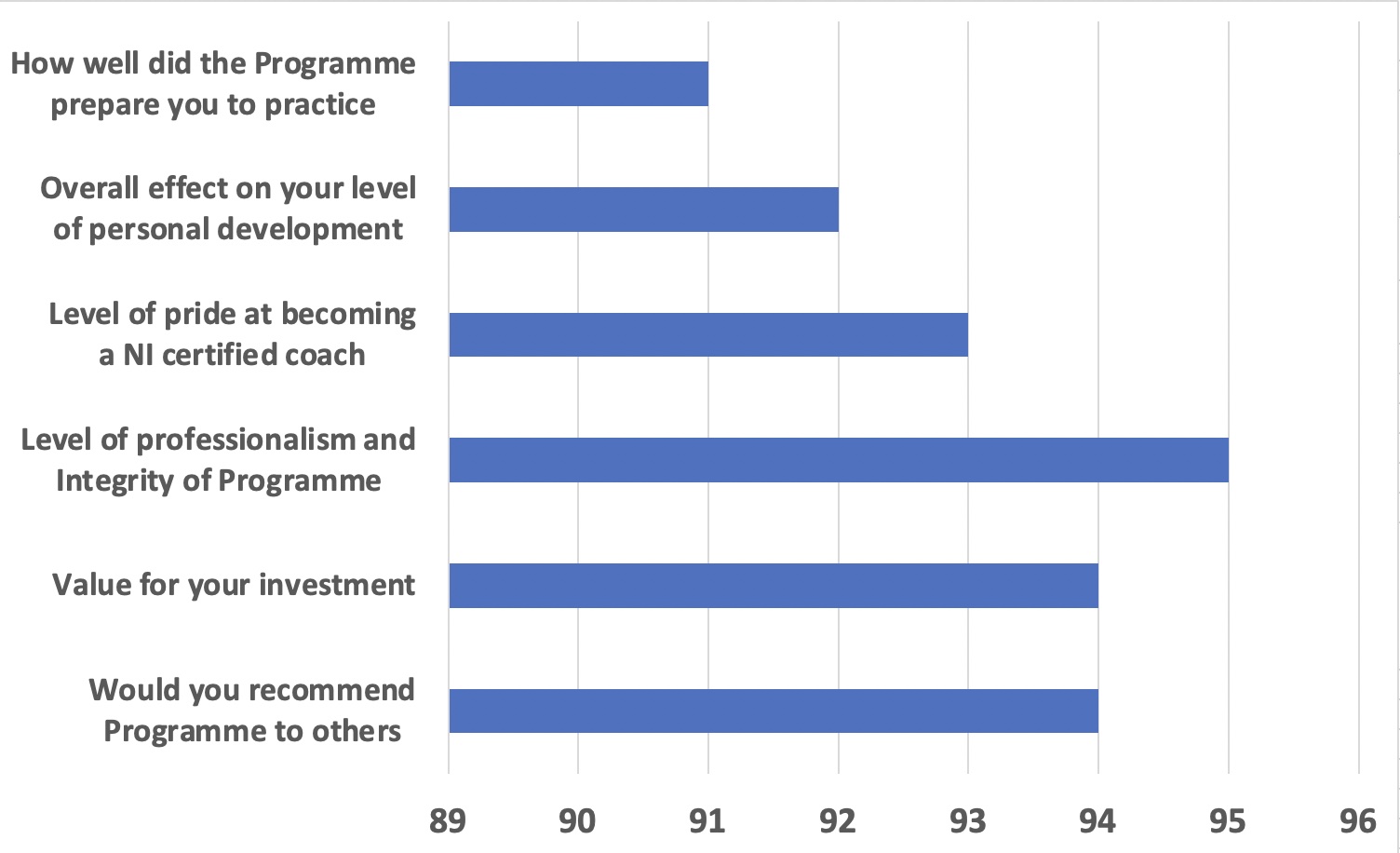 ---
Return from Satisfaction Ratings to Home Page